Supplies Wholesalers is a direct importer & wholesaler selling new build compatible and remanufactured Laser & Copier Toner, Inkjet Cartridges, and Ribbons to our reseller partners across the U.S. We strive to provide the highest value to our dealers by combining only the highest quality, ISO9001/ISO14001 tested products with competitive pricing and the best service in the business.
We offer over 3,000 different SKUs that are completely compatible with the manufacturer's original brand products which they replace and will not void the original OEM warranty. Our product does not violate any OEM patents or intellectual properties. Our manufacturer partners use the finest raw materials and continually refine their processes to provide us with the highest-level quality product on the market. All of our products are covered by our full 1-year hassle-free warranty.

Learn more about The Cartridge Experts at Supplies Wholesalers. Bryce Clark shares why he enjoys working at SW, how they differ from the competition, and more.
WHY SUPPLIES WHOLESALERS?
Helping our clients succeed is directly related to Supplies Wholesalers' ability to provide the broadest range of value priced, highest quality products at competitive pricing along with customer service and distribution second to none. Additionally, our management team has over 100 years combined experience in the printer supplies and accessories industry. We know you have choices for your compatible imaging supplies, so thank you for choosing Supplies Wholesalers as your compatible imaging supplies partner.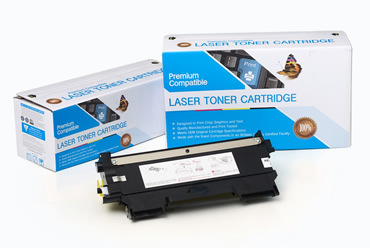 We offer a complete range of Remanufactured Laser & Fax Toner Cartridges for thousands of printers, MFPs, and fax machines. Each cartridge is individually print tested and covered by our industry leading full 1-year hassle-free guarantee. They're primarily made in ISO 9001/14001 and STMC quality certified factories located in Asia & North America using the highest quality new and recycled components.
COMPATIBLE COPIER TONERS
We've added nearly 500 SKUs of compatible copier toners to this section, making it easy to find the right toner for Laser, Fax, MFP, or Copiers!
PREMIUM LINE VS. VALUE LINE
These toner cartridges are made with the highest quality components, including a virgin core, new high-quality drum, along with primiarily new components including the mag roller, doctor blade, etc. Our Premium toners typically contain up to 80% new parts. Average defect rate is only 1%. (SW Numbers begin with "C" or "P")
These toner cartridges are ideal for competitive online sales, or bid situations including school & government. They are typically made from a recycled non-virgin core, a qualified recycled or recoated OEM drum, or a new Chinese/Korean made drum, along with more recycled components. Average defect rate is 2% to 3%. (SW Numbers begin with "V")